(PR.co.nz) Ewing Poultry in Nelson is a dedicated team that always pride themselves on giving exceptional service, above and beyond customer's expectations. Supplying fresh eggs to their customers after the Kaikoura earthquake on 14 November became an immediate priority.
With the town completely cut off, the team at Ewing Poultry were committed to getting an egg delivery to their customer, New World Kaikoura.
"We knew there weren't many options on delivering into the badly hit town" says Edwin Pons, Sales and Marketing Manager of family owned Ewing Poultry. "With the help of Reid Helicopters in Nelson, flying our eggs was an ideal solution. It was a 45-minute flight with around 6500 New Day Free Range eggs and Morning Harvest eggs packed pretty tightly into the chopper so there was no spare room even for the dog."
New World Kaikoura was grateful for the outstanding service. "We're stoked with Ewings for going the extra mile", says Glen Steele, owner of New World Kaikoura. "It's pretty tough for the local community and stranded tourists alike, so for us to be able to keep our egg supplies going and people fed is fantastic".
For Ewing's it's the least they could do to make sure the people of Kaikoura didn't run out of eggs.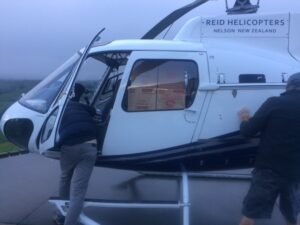 Media Release on 17 November by Independent Egg Producers Co-operative Ltd on behalf of Ewing Poultry Ltd
Media Contact
Edwin Pons
Phone: 0275 901 048
Email: edwin@ewingpoultry.co.nz
Website: http://ewingpoultry.co.nz/
Image Link:
Eggceptional-service.jpg