(PR.co.nz)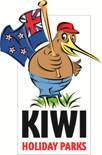 Kiwis will now be rewarded when creating holiday memories. Kiwi Holiday Parks have joined the Fly Buys loyalty programme 1 June and will offer members' points when staying at any of the 45 independently owned Kiwi Holiday Parks around New Zealand.
"Kiwis love to stay at Holiday Parks and they love to earn Fly Buys points. One of the biggest redemption items for Fly Buys is camping equipment. We feel this is a perfect match and will give us an opportunity to thank New Zealanders for staying at and supporting Kiwi Holiday Parks. Our domestic guests are very important to us and we try to make staying at a Kiwi Park affordable through our Membership Discount Card and now Fly Buys," says Jenny Russell, Chairperson for Kiwi Holiday Parks.

Kiwi Holiday Parks is a leading marketing organization for independent 3 and 4 star Qualmark rated holiday parks throughout New Zealand. Kiwi Parks deliver a unique holiday experience with a range of quality accommodation options from tent and motorhome camp sites to tasteful self-contained units perfect for couples, families and groups. Many parks are located near forests, national parks and coastal areas in top tourist areas providing various park amenities as well as vast local knowledge. Kiwi Parks Membership program saves visitors 10% on park accommodation and Bluebridge Cook Strait Ferry Crossings as well as discount off of top tourist attractions throughout New Zealand. Membership provides guests with the convenience of numerous park locations, top value and best of all "Kiwi friendly" hospitality from independent owners.
For more information on Kiwi Holiday Parks visit www.kiwiholidayparks.com.
Media Release on 28 May 2014 by Kiwi Holiday Parks
Media Contact
Kathy Wilson, Kiwi Holiday Parks NZ
Address: PO Box 2216, Taupo, New Zealand 3351
Freephone: 0800 94 54 94
Website: http://www.kiwiholidayparks.com