(PR.co.nz)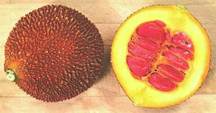 A fruit, which only grows for a few weeks a year in Vietnam, has been identified as a "super source" of Lycopene. Lycopene is a pigment present in some fruit and vegetables which scientists have identified as an important part of the Mediterranean diet, and a significant factor in cardiovascular health.
Late last year Finnish medical scientists from the Department of Medicine, Institute of Public Health and Clinical Nutrition, University of Eastern Finland, Kuopio, completed a 12 year study of over 1000 Finnish men which found that high blood Lycopene levels reduced the risk of stroke by more than 55% when compared to low levels of Lycopene. Low levels of Lycopene also increased the risk of heart attack in the group studied.
So what are the dietary sources of Lycopene? "Tomatoes were thought to be the best source of Lycopene but your body can't absorb much Lycopene if the tomatoes are raw, according to Matakana SuperFoods founder Dr Kevin Glucina. Cooked tomato has more Lycopene but you need to combine it with a fatty-acid like olive oil or Sacha Inchi oil to make it more bio-available. Other sources of Lycopene are goji berry, watermelon and papaya.
The discovery of a new super source of Lycopene from Gac (a gourd-like fruit from Vietnam) may come as good news for those in the ever increasing high-risk categories for stroke and heart disease. If you are overweight, diabetic, have high cholesterol or if you are over 40 years old and think prevention is better than cure, then you may consider including Gac fruit powder in your diet to elevate your Lycopene levels. Weight for weight, Gac contains 70 times more Lycopene than tomato. Gac fruit also contains its own natural fatty-acids which help the body absorb Lycopene. Gac powder capsules are a convenient way to keep your Lycopene levels topped up."
Matakana SuperFoods have launched Gac capsules in a 90 x 500mg bottle.
It is available from Health Food stores or visit www.matakanasuperfoods.com to purchase online.
Free phone 0800 422 9688
Media Release on 23 April 2013 by Matakana SuperFoods.
Media Contact
Donna Davidson, Matakana SuperFoods Ltd
Email: matakanasuperfoods@xtra.co.nz
Phone: (09) 422 9618
Website: www.matakanasuperfoods.com