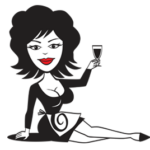 (PR.co.nz) The Dolly has arrived at DolliciousNZ.com where she will present iconic New Zealand recipes and showcase the fresh, innovative and dollicious taste of New Zealand food and world-class wine.
The Dolly is a lovable character who is a dollistic little dynamo! She will be the official face and voice for everything Dolly! The Dolly character was illustrated by Rick Menard, Cartoonist/Illustrator (Twizel, New Zealand).
'Like' The Dolly on Facebook and join The Dolly Club to talk about food, wine and things dollies like to do. Learn more about iconic Kiwi food and New Zealand wines that have received accolades from all around the world at The Dolly Blog.
New Zealand food is known for it's fresh, simple flavours and Kiwis love their food – quintessential dishes include everything from roast lamb to green-lipped mussels and pavlova.
New Zealand's cuisine draws inspiration from Europe, Asia and Polynesia, and is often described as Pacific Rim. Pacific-Rim is a distinctive fusion using many of New Zealand's excellent fresh produce and seafood.
Media Release on 12 August 2013